VERTICAL DRILLING (CORING) MACHINE

2 Heads Type
Model C2V-10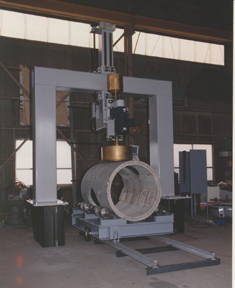 Use: Concrete Drilling, etc.
SPECIFICATIONS
Model
C2V-10
Pipe to be drilled
Diameter 600-1200mm
Diamond Core Bit Diameter
150-600mm
Vertical Movement Distance
1000mm
Horizontal Movement Distance
-
Cart Movement Distance
Up to Rail Length
Motors

Main Shaft 7.5kW
Up-Down 0.75kW
Bit Exchange 0.2kW
Cart Movement 1.5kW (Option)
Roller Turn 0.2kW

Total: 10.15kW (13.5Hp)
Machine Size
Drawing
Specifications may be changed without prior notice.
---
(C) Ogyu Manufacturing Inc. 1997-2006 All rights reserved.